* Click photos to enlarge
Our fishing activities are available for our hunting and lodging guests only. We have grown to include 18 ponds on our property stocked with a combination of catfish, bass and bream. Our main catfish pond is 2.5 acres and has been stocked with over 20,000 pounds of 6-60 pound beauties. Many of our ponds have a managed balanced of stocked bass and bream to insure premier action while promoting aggressive growth with our fish. Many bass over 10 pounds and even more bream weighing over 2.5 pounds have been caught at Moree's. Fishing Preserve features Bass, Bream, & Catfish.
Hunting and Lodging Guests Only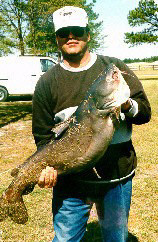 Preserve owner, Henry B. Moree, holds a 25 ponder pulled from the Catfish pond!
A Sportman's paradise! Moree's Preserve has a sporting activity for every outdoor enthusiast.
We can easily accommodate your entire group or family with 10 different lodging facilities.
Elite, Corporate Bonus and Sporting Clay Membership are available with great savings!